Judiciary Notes- Printed Notes, Handwritten for Judicial Services and UPSC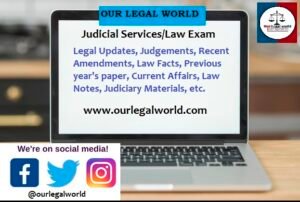 Judiciary Notes- Printed Notes, Handwritten (PDF) for Judicial Services, and IAS
LAW- Printed Notes, handwritten for IAS, PCS & JUDICIAL services For the aspirants who cannot come to Delhi for classroom coaching or can't afford judiciary coaching will be benefited from the study material. Given there is large no of recruitment of Judges in the years to come JUDICIARY is a hot cake for the aspirants having law as an optional. Material is designed to suit the need for JUDICIAL services and UPSC/ PCS examination. Material is procured from reliable sources and complete in every aspect.
Also Read: All India LLM Entrance Crash Course|DU LLM|CLAT|AILET|ILI..
Following Subject are covered :- (English) Available in PDF only or soft Copy
The Specific Relief Act, 1963
The Limitation Act (Act 26 of 1963)
Code of Civil procedure
Negotiable Instruments Act
The Registration Act
Indian Evidence Act
Transfer of Property Act
Partnership Act
Paid Judiciary Premium Membership [New]
This Membership/Study Material is specially designed for those students who are having financial difficulties and unable to afford heavy coaching fee for their preparation and not have sufficient time to prepare the important subject for the various law entrance exam.
This membership is designed to cope up with all the Judicial Services (Civil Judge) exams in India like Delhi Judicial Services, UPPSCJ, MP Judicial Services, Bihar Judicial Services etc.
How you can use our membership?
In a paid membership for judicial Services exam we have 2 membership plan i.e 4 months and 6 months in which we will add you in telegram group.  
Group Content 
Law Notes (Pre and Mains)
MCQ PDF (Subject Wise)
Previous Year Question Paper 
Discussion 
Fee: *Early Bird offer
4 Months: Rs: 2000/-
6 Months Rs: 2500/-
Contact: 
Our Legal World is one of India's leading online platform legal update portal and also provide law notes for judicial services competitive examination like Additional District Session Judge Examination, Civil Judge Junior Division PCS (J), Assistant Prosecution Officer Exams APO, Assistant District Attorney ADA, Judicial Magistrate, Special Public Prosecutor for CBI, and Law Officer for various states i.e. Madhya Pradesh (MP PCS-J), Uttar Pradesh (UP PCS-J), Delhi (DJS), and Law Notes for LLB, LLM and other various competitive exam.