All India Quiz Competition on Indian Penal Code 1860 -Register Now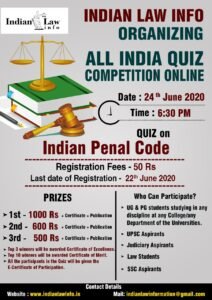 All India Quiz Competition on Indian Penal Code 1860 -Register Now
Indian Law Info Organizing All India Quiz Competition on Indian Penal Code 1860 (Online)
Indian Law Info is a online leading portal for all legal activities. We at Indian Law Info Organizing its 2nd Quiz Competition on the topic INDIAN PENAL CODE 1860.
Prize
The winners will get CASH Prize +
Certificate + Free Article Publication on our Portal.
 1 st – 1000rs + Certificate + Free Publication
 2 nd – 600rs + Certificate + Free Publication
 3 rd – 500rs + Certificate + Free Publication
 Top 3 winners will be awarded Certificate of Excellence.
 Top 10 winners will be awarded the Certificate of Merit
 All the participants in the Quiz will be given the E-Certificate of Participation
Important Date 
Last date of registration- 22th June 2020
Date of Online Quiz Competition- 24th June 2020
Registration Fees- Rs. 50
Who Can Participate?
 UG & PG students studying in any discipline at any College/any Department of the
Universities.
 UPSC Aspirants
 Judiciary Aspirants
 Law Students
 SSC Aspirants
How to participate for Quiz
Registration amount is Rs 50 .
Participants can make Payment to 9873006641@PAYTM
Participants can make Payment to 9873006641@GOOGLE PAY
After the payment , all the participants must Fill the Registration Form by Clicking here
NOTE : All the Participants please attach a screenshot of payment in Registration Form
Format of Quiz
 Quiz will contain Multiple Choice Questions (MCQs) only, from which a participant has to choose one option.
 The total number of questions will be 40; all questions will carry 01 mark each.
 There will be no negative marking.
 Total time period to attempt these questions will be 20 minutes.
 The aggregate will be evaluated from Total 40 Marks.
Mode of Participation
The quiz will be on Google Forms.
The Link for the quiz will be sent on the WhatsApp Group.
The quiz can be played on any device- Mobile/Tablet/Laptop.
Indian Law Info will not be responsible in case of any connectivity/device failure during the Quiz.
Guidelines-
 Only Individual Participation is permitted.
 No complaint regarding the network issues during any stage of the quiz will be entertained.
 The quiz will be conducted on 24th June at 6:30 PM , to avoid any inconvenience, the participants are advised to be ready 10 minutes before the commencement of the quiz.
 The participants are requested to arrange a sound internet connection, the organizers shall not be responsible for any loss due to loss of internet.
 The organizers reserve the right to amend or repeal any rule or eligibility criteria at any time before the commencement of the competition.
 Results will be announced by June 28, 2020