Important Case Laws on Constitution for CLAT PG | LLM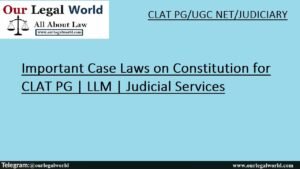 Important Case Laws on Constitution for CLAT PG | LLM | Judicial Services
CLAT PG | LLM Entrance Exams Notes: Click here
Freedom of Speech
1. Anuradha Bhasin Case (2020) Right to Internet Access
Issue
Supreme Court in response to petitions filed, arguing the internet shutdown and curbing of other civil liberties in the Jammu and Kashmir.
Constitutional and legislative provision involved:
Section 144 of the CrPC, Indian Telegraph Act (1885), Information Technology Act, Article 21, Article 19(1) & Article 19(1)(g).
Held
The SC made the Internet as an integral part of the freedom of expression guaranteed under 19(1) of the Constitution.
SC held that the internet as a medium is a major means of information diffusion and that freedom to receive information is essential to expression.
While such freedom is not absolute, the restrictions imposed on it should be in consonance with the mandate under Article 19(2) and Article 19(6) of the Constitution, inclusive of the test of proportionality.
2. Union of India v. Association for Democratic Reforms (2002):
One-sided information, disinformation, misinformation and non-information, all equally create an uninformed citizenry which makes democracy a farce.
Freedom of speech and expression includes right to impart and receive information which includes freedoms to hold opinions.
3. Ram Monohar Lohia Case 1960
SC said reasonable restrictions establish a relationship of proportionality between what the state wants to achieve and the extent to which it restricts speech. .
Note: Other cases related to Freedom of speech
Romesh Thappar v. State of Madras 1950
Shreya SInghal v. UOI 2015
R. Rajagopal v. State of Tamil Nadu 1994
Right to Life and Personal Liberty
Euthanasia/Right to die with dignity/merch killing:
1. Common Cause v. Union of India 2018
The Supreme Court in Common Cause v. Union of India 2018 gave legal sanction to passive euthanasia in a landmark verdict and permitting 'living will' by patients on withdrawing medical support if they slip in irreversible coma.
ISSUE
Right to die vs. Right to live with diginity
Constitutional and Legislative provisions involved:
Article 21
Judgement delivered:
Right to Die- The Supreme Court has upheld that the fundamental Right to life and dignity incudes right to refuse treatment and die with dignity.
It held that right to a dignified life extends up to the point of having a dignifies death.
Fundamental right to 'meaningful existence' includes a person's choice to die without suffering.
In P. Rathinam v. Union of India- Supreme Court observed Life is not mere living but living in meant and health is not the absence of illness but the glowing vitality'.
2. Aruna Shanbaug Case 2011
The Suprem Court of India laid down guidelines for euthanasia and made a distinction between 'active and 'passive' euthanasia. It said that causing death of a person who is in a permanent vegetative state, with no chance of recovery; by withdrawing artificial life support is not a "positive act of killing" and court be permitted on a case-by-case basis.
Freedom of Religion
1. Sabarimala temple case/Indian Young Lawyers Association v. State of Kerala 2018
Supreme Court allows Women Entry into Sabarimala Temple, which is termed as a violation of women's right to practice religion.
3. Triple Talaq/ Shayara Bano Case 2017
Issue: Gender Equality v. Freedom of Religion
Judgement
The Supreme Court declared that divorce through instant triple talaq among Muslims would be "void", "illegal" and "unconstitutional".
The court delared that instant Triple Talaq is unconstitutional, Constitution Bench did not accept the argument that instant talaq is essential Islam and deserves constitutional protection under Article 25.
CLAT PG/LLM 2023: Important Judgements: OurLegalWorld: Click here
Follow Us