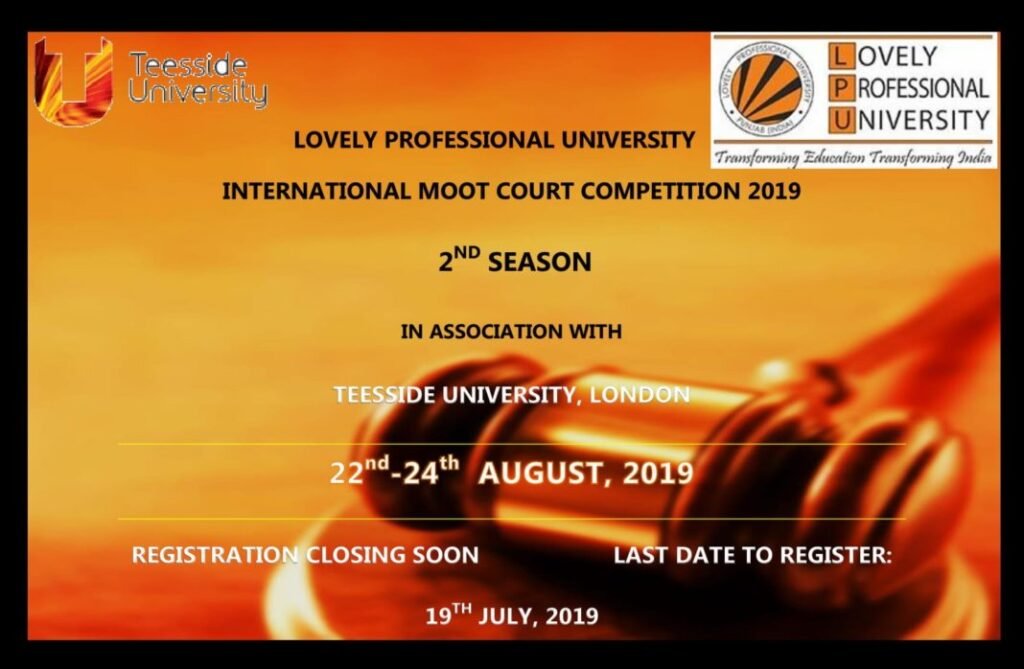 International Moot Court Competition 2019

– 2nd Season organized by Lovely Professional University to be held from 22nd – 24th August, 2019 Lovely Professional University is organizing the International Moot Court Competition 2019- 2nd Season from 22nd – 24th August, 2019 at its sprawling campus in Jalandhar, Punjab in association with Teesside University, England.
The International Moot Court Competition was initially scheduled to be organized from 11th – 13th April, 2019 but due to unforeseen circumstances the same had to be deferred. Hence, the new date for the Moot Court Competition is 22nd – 24th August, 2019.
The Moot Proposition circulated will remain the same and teams can register for the competition.
The detailed timeline for the competition is as follows:
Last date for Provisional Registration (soft copy) 19th July 2019
Confirmation of Registration / Participation 20th July 2019 (6.00 PM)
Clarification for Moot Problem 24th July 2019
Release of clarifications 26th July 2019
Last date for receiving final registration with DD (hard copy) 31st July 2019
Memorial Submission and Travel Plan 10th August 2019
Receipt of Hard Copy of Memorials 16th August 2019
Moot Court Competition 22nd – 24th August, 2019
We look forward to welcoming the participants of your institution and assure them of an intellectually rewarding experience. We are certain that the participating students will enjoy the stimulating competition at our enchanting campus. The organizers have worked hard to ensure good participation which would be judged by eminent jurists, academicians and advocates.
Thanking you,
Dr. Shailesh N Hadli
Professor & Dean
School of Law
Lovely Professional University.