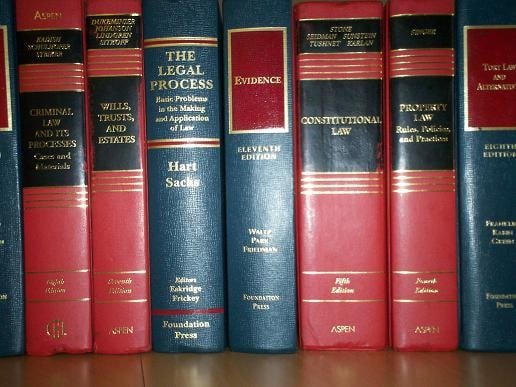 15 Must Read Books for Law Students in India
1. Before Memory Fades: An Autobiography by Fali S Nariman
Fali Sam Nariman is an Advocate to the Supreme Court of India. Mr. Nariman is one the most distinguished jurist of our country. Known as 'The Lion of the bar' He explain his  stand over why he took the case of the accused in Bhopal Gas tragedy case and why it is not right to declare the accused as convicted at the face.
2. Tomorrow's Lawyers: An Introduction to Your Future by Richard Susskind
3. To Kill a Mockingbird by Harper Lee
To Kill a Mockingbird takes place in the fictional town of Maycomb, Alabama, during the Great Depression. 
4. Nani Palkhivala: The Courtroom Genius by Soli J Sorabjee and Arvind P Datar
5. Learning the Law by Glanville Williams 
6. 10 Judgements That Changed India by Zia Mody
Must read for those who want to understand how these landmark judgements impacted the society at large.
7. Legal Eagles: Stories of the Top Seven Indian Lawyers by Indu Bhan
8. We, the People by Nani A. Palkhivala
This book is a consolidation of essays, lectures, convocations addresses and thoughts of Nani Palkhivala. 
9. We, the Nation: the Lost Decades by Nani A. Palkhivala
10. Bleak House by Charles Dickens
11. The Indian Constitution: Cornerstone of A Nation by Granville Austin
12. Working in a Democratic Constitution: A History of the Indian Experience by Granville Austin
The Indian Constitution provides a history of the Indian Constituent Assembly. It discusses how and why the members of the Assembly wrote their constitution as they did. 
13. The Trial by Franz Kafka
14. Letters to a Law Student by Nicholas J. McBride
Letters to a Law Student relays all that a prospective law students needs to know before embarking on thier studies. It provides a useful guide to those considering a law degree or conversion course and help students prepare fro what can be daunting first year of study. 
15. Landmark Judgments That Changed India by Ashok K. Ganguly
Follow Our Legal World Instagram Page for: Judiciary Notes, Law Books @ourlegalworld